As one of the top 500 enterprises in China, AUX Group, established in 1986, is an enterprise group of modern service industry, which includes 6 branches: intelligent, home appliance, mobile intelligent terminal, real estate, medical service and financial investment.

In year 2013, the business turnover of AUX is RMB 48.1 billion. The total asset of AUX is RMB 26.5 billion. We have 20 thousands employees all over the world. There are seven AUX's manufacturing bases located in Ningbo, Nanchang, Tianjin, Shanghai, Shenzhen, Dongguan respectively. The company owns multi-brands including AUX, Sanxing, BFB, LN and etc.

Ningbo AUX IMP. & EXP. CO.,LTD. is affiliated with AUX Group. We value the belief of "Creating an intelligent way of life with high technology". After a 17 years exploring, our total assets reached RMB 1.1 billion. We have three major industrial bases located in Ningbo, Nanchang, and Tianjin respectively. Our Business covers residential air-conditioning, commercial air-conditioning and other household appliances. Our products are exported to over 100 countries and districts. In year 2013, Ningbo AUX IMP. & EXP. CO.,LTD. achieved a $560 million turnover and a 2.5 million sales volume.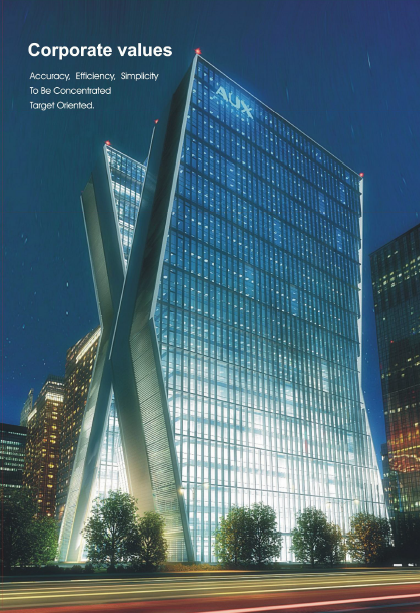 Ningbo AUX IMP. & EXP. CO.,LTD. has been consecutively awarded multi-honors as one of the most famous export enterprises in Zhejiang Province, one of the most famous export enterprises in China, high performance enterprises in exploring international market, vice chairman unit of home appliances, National Informational Benchmarking enterprise, high-tech enterprise of the national torch program, the permanent unit for national engineering technology center and national postdoctoral workstation. Moreover, we also value the cooperation with the world famous companies as GE, ELECTROLUX and YORK, and etc.

In the year 2002, AUX Group appointed PT Berkat Andijaya Elektrindo as the sole distributor in charge of the sales and distribution of AUX products in Indonesia. With well equipped factory, AUX able to produce 90% of the products components. That is the main reason AUX able to deliver high quality products at low price. Supported by professional management, advance business development, high level of research and development and high work spirit, AUX GROUP is leaping into one of a worldwide influential manufacturer and corporate group.

AUX will work hard with the guideline of our WIN Strategy-Worldwide. Intelligent and Navigating to make our belief become true-grow up to a world famous enterprise and creating an intelligent way of life to our clients.